Trumpton characters, songs & trivia.
Songs by Gordon Murray, Freddie Phillips and Alison Prince.
---
Each episode would begin with the announcement:
"Here is the clock, the Trumpton clock. Telling the time steadily, sensibly, never too quickly, never too slowly. Telling the time for Trumpton."
The clock tower would then do its stuff, and with the clock showing nine o'clock, some of the townspeople would begin their daily business: Mr Clamp showing off his fine display of vegetables, and Mrs Cobbit arriving with her flowers.
Then the day's events would unfold with the arrival of perhaps Chippy Minton in his truck, or perhaps Mr Troop the town clerk.
Trumpton was the main town in the county of Trumptonshire. It had a town hall, with a clock tower, numerous shops, and a fine market square in the middle of which stood a statue of Queen Victoria. The town also had a rather nice park with a bandstand, and it was at this bandstand that the Trumpton fire brigade would play us out at the end of each episode, while the people from Trumpton and nearby areas listened and watched. Why this did not clash with the six o'clock dance at Chigley was never explained...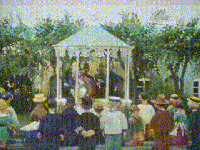 ---
Mr Clamp the greengrocer, and his cat Aggee

Apart from selling fruit and veg, Mr Clamp was also the judge at the fruit & veg show.

"The Greengrocer"
Come buy my vegetables, fruit ripe and beautiful.
Fine fresh and fancy, come buy them from me.
Come buy, come buy, come buy them from me.

Cabbages carrots and tender spring greens,
Broccoli, brussel-tops, fresh runner beans,
Peaches and plumbs, pears by the pound
Parsnips and beetroot, straight from the ground.
Apples and oranges, strawberries too.
Mushrooms, gathered in this morning's dew.
Radishes, lettuces, onions shallottes,
Tomatoes, potatoes and lots and lots - of spinach.

Come buy my vegetables, fruit ripe and beautiful.
Fine fresh and fancy, come buy them from me.
Come buy, come buy, come buy them from me.
---
Mr Troop the townhall clerk

Although Mr Troop appeared in many of the Trumpton episodes he didn't actually do much that was noteworthy. His most important contribution was suggesting to calling the Trumpton Fire Brigade.
---
The Mayor of Trumpton

The mayor and Mr Troop were the only staff working in Trumpton town hall. They were always very eager to call the fire brigade, a bit too eager sometimes...

The Signing Song:
Fire Brigade, library, road repairs, postage stamps
Rubbish bins, swimming baths, broken window panes
Park gates, water works, painting all the street lamps
Dust cart, youth club, church bazarre, drains
"The Round Pond"
I like the robin's merry song
The thrush's and the lark
But best of all I like the ducks
Who swim in Trumpton Park

For Ducks will never fly away as soon as I appear
They swim up in their search for food without a sign of fear
Their heads are dark and shiny green, their feathers brown and white
Their yellow beaks are broad and flat, their eyes are round and bright.
---
Mr Antonio the ice cream man

Mr Antonio drove a white,pink and green ice cream van. He also delivered ice cream wholesale to important customers (like Lord Belborough).

"Ting-a-Ling-a-Ling"
Ting aling aling aling here's the ice cream man
If you want to buy a lolly come as quickly as you can
If you'd rather have an ice
You will find they're very nice
Just hurry up and buy one from the ice cream man

Would you rather have a choc-ice or a cornet or a brick ?
Or if you buy a lolly please don't throw away the stick
Find the nearest litter bin
Put the stick and paper in
And buy another lolly from the ice cream man
---
Trumpton Fire Brigade

These seven fearless fire men could deal with all sorts of trouble. From cats up trees to apple picking - no job was too difficult. In the afternoons, the firemen would play in the bandstand in Trumpton Park and the town's people would gather to watch and listen. Fortunately there were no fires in the afternoons, but then there were no fires in the mornings either.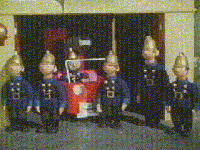 Captain Flack
He would always answer the 'emergency' phone call, then flick a switch on his control unit which sounded the fire station bell. At the top of the control unit was a map - of the area around Florence, in Italy. Captain Flack always gave the orders - in a very clear manner - "DESCEND !".
For some reason there has always been much confusion over the names of the firemen. This is compounded by recent publications which are themselves inconsistent. The definitive answer however is:
Pugh, Pugh, Barney McGrew, Cuthbert, Dibble, Grubb.

Firemen ready (43k sound file)
The firemen's names were thought up by Alison Prince who wrote the Trumpton scripts, although her original roll call had just one Pugh. Freddie Phillips who wrote all the music for Trumptonshire then suggested adding a second Pugh to give the roll call a "musical foot", as he put it.
Pugh and Pugh were in fact twins. If you're still in doubt, then read the interview with Gordon Murray. He specifically refers to them as twins - and after all, he should know. The Trumpton annuals of the time are consistent, with twin Pughs.
Barney McGrew was the bearded fireman who always got to drive. Cuthbert was the one who rode in the hoist and had an aunt.
The firemens' theme tune, known as "Firemen Bold", must be one of the most memorable tunes of the Trumptonshire series, even though it had no lyrics.
Cuthbert's Aunt
A minor character who caused great confusion when she visited Trumpton to see her nephew.
---
Policeman Potter - not to be confused with PC McGarry (of Camberwick Green), Policeman Potter was the officer of the law at Trumpton.
---
Chippy Minton - the carpenter, wife Dora and son Nibbs.

They lived in a small semi, next door to Mrs Cobbit, on the Oakridge Road. Chippy and his son worked as a team. They had a workshop at the back of the house.

"The Carpenter"
I like my job as a carpenter,
There's nothing I'd rather be.
I've had my tools for many long years,
They're all good friends to me.

A mallet and drill are in my bag
A file and gimmlet too.
Sand paper sheets a brace and bit.
A bradawl and some glue.

I like my job as a carpenter,
There's nothing I'd rather be.
I've had my tools for many long years,
They're all good friends to me.

I've chisels and saws all keen and sharp,
A jack and a smoothing plane.
I Know that oak will plane up true ,
while mahogany changes grain

I like my job as a carpenter,
There's nothing I'd rather be.
I've had my tools for many long years,
They're all good friends to me.
---
Miss Lovelace - the hat maker, (pekinese) dogs Mitzy, Daphne and Lulu.
A genteel lady who owned the hat shop in Trumpton. Her three (rather annoying) dogs caused trouble in several episodes.

"The Milliner"
A hat for a young girl, so sweet and so slim,
Has long velvet ribbons and a wide shady brim.
With a bright yellow daisies so fresh and so fair,
To echo the colour of her long golden hair.


A hat for a lady so fine and so grand,
Must always be fashioned with a pure silken band,
And one single hat pin of a silver so rare,
To set as a contrast to her glossy black hair.
---
Philby the Mayor's driver

He drove and polished the Mayor's vintage car
---
Mrs Cobbit the flower seller

She lived next door to the Minton family. Although they were situated out in the country, it was close enough to let Mrs Cobbit walk into Trumpton town centre.

"The Flower Seller"
Roses, roses, buy my red roses,
Scented so sweetly and fresh as the dew.
Roses, roses, come you fine gentlemen,
Buy a bunch of red roses a nose gay for you.

Violets, violets sweet smelling violets,
Purple and tiny and fresh as the dew.
Violets, violets, come you fine ladies,
A bunch of sweet violets, a posey for you.
---
Mr Craddock the park keeper

"The Litter Song"
Silver paper, toffee paper, dirty bit of cardboard.
Chair ticket, bus ticket, button from a dress.
Chocolate wrapper, envelope, another bit of cardboard.
Can't they use the litter bins and not make such a mess.

Leave litter in the litter bins and never leave a mess!
---
Mr Robinson the window cleaner

"The Window Cleaner"
It is hard to see out or for light to come in,
Through window panes coated in a thin layer of grime,
Mullioned or lattice-work, frosted or plane,
Your windows will let in the sunshine again,
If you send for the man who cleans windows in time.

Send for the window cleaner, don't delay send today.
He will come with his ladder, his leather and pail,
And wash all the grime away.
He will put up his ladder and fill up his pail,
Wring out his leather and give it a shake.
The panes that he cleans, he will clean without fail,
Because of the pains he will take,
Be-cause of the pains he will take.

Send for the window cleaner, don't delay send today.
He will come with his ladder, his leather and pail,
And wash all the grime away.
---
Mr Munnings the printer

He prints everything and anything, but particularly the posters for the Trumpton band concert

"The Printer"
I line up all the letters with spaces in between,
And clamp them in the printing press a wonderful machine.
Posters are in capitals, bold and fat and tall,
But the printing in the daily news is often rather small.

Now the inky roller comes down the type and back,
And makes the letters ready to be printed clear and black.
I check the pile of paper for every single sheet,
Will be printed by the inky type with letters clear and neat.

When they have a flag day I print the little flags,
Notices and labels and even paper bags.
I make the letters stand up straight and keep the paper clean,
Then the job will be as good as anyone has seen.
---
Mr Platt the clockmaker

"The Clockmaker"
Clocks are like people,
Clocks are like you and me.
Each has its own personality.

Big clocks small clocks,
Grandfather tall clocks,
Cuckoo clocks, hall clocks,
Mantlepiece and Wall clocks,
Clocks for the school room, the kitchen and the nursery,
Alarm clocks to waken us, urging puctuality.

All of them chiming or whirring or clicking,
Cuckooing or ringing or tick-tock ticking.
---
Raggy Dan the rag and bone man

Trumpton's number one recycler.

"The Rag and Bone Man"
Rags, bottles and bones I cry,
Rags and bones I buy, I buy.
Listen for me as I'm passing by
Rags, bottles and bones I cry,
Rags, bottles and bones.

Brick-a-brac bicycles, books or brass,
Rags and bones I buy, I buy,
Pottery, pewter or china and glass
Rags, bottles and bones

Turn out the attic and under the stairs,
Rags and bones I buy, I buy.
Old fashioned furniture, sofas or chairs,
Rags, bottles and bones I cry,
Rags bottles and bones.
---
Mr Bolt the borough engineer

We hear about Mr Bolt in the episode "The Greenhouse", where he is called to inspect a dangerous chimney.
---
Nick Fisher the bill sticker
If you have a lot of posters to put up, don't do it yourself, let a professional bill sticker do it properly.
Contrary to what some people thought, his name was not Bill Stickernik - and he was not of East European origin!
"Bill Sticker Nick"
Pasting up the posters, sticking up the bills.
Putting up advertisements for sausages and pills.
Flower shows and concerts, you can take your pick.
All neatly stuck by bill-sticker Nick.
---
Walter Harkin the painter & decorator

"The Painter"
People will ask me what colour to use.
There's pink and there's purple, its so hard to choose.
Some ask for yellow and some ask for green,
And some ask for grey so the dirt won't be seen.
Red is exciting and orange is bright,
And purple is rich as the sky at midnight.
Crimson is splendid for one kitchen wall,
And pink is quite pretty, perhaps in the hall.

Black paint and brown paint just simply won't do,
For an old fashion house where the windows are few.
For I think an old house is nicer than new.

Paint it white.
---
Mr Wilkins the plumber

"The Plumber"
Hot water heater takes too long to heat,
Overflow pipe dripping into the street.
A leaky old tap, or broken waste trap,
Just send right away for the plumber.

Ball valve corroded or mud clogged the drain,
Winter has brought frozen pipes once again.
So turn off the tap that shuts off the main,
And send right away for the plumber.

Water tank leaking and blocked with dead leaves,
That Winter's cold winds have blown under the leaves.
The water comes stealing, down through the ceiling,
So send right away for the plumber.

The cause of the trouble is very soon found.
The old tank is lowered with care to the ground.
The new one erected and quickly connected,
And weatherproof, water tight, tidy and trim,
Is soon with clear water filled uo to the brim.

An excellent job by the plumber.
---
Mr Wantage (and his assistant Fred) the telephone engineers

In the days before British Telecom, these two fine engineers would solve your telephone problems - eventually.

"The Post Office Engineer"
Ring Ring I work for Post Office telephones.
I'm the man you send for if a fault appears.
I check the cable, wire and cord, connected to the telephone,
And then discuss the remedy with other engineers.

Hello! Hello! We're working on the line.

Ring ring ring ring replace your receiver please.
Post Office Telephones will send an engineer.
Your phone was disconnected,
By a fault that's now corrected.
We are sorry to have troubled you,
But now the line is clear.

Hello! Hello! Your line has now been cleared.

Ring ring ring ring I test all the telephones,
Making certain all the lines are loud and clear.
Investigating each complaint,
Of noises loud and voices faint.
The daily occupation of a P.O. engineer.
The occupation of an engineer.
---
The Artist
The Artist appeared in the episode "The Mayor's Birthday", in which he painted a picture of the town hall.
I wander through the country side
With easel, brushes, paints and stool
And settle in a leafy glad
By willow tree and shady pool.

I draw a picture first of all
With simple lines of green or blue
And then I fill the drawing in
With painted shapes of every hue.

And when at last my picture's done
I pack it carefully away
And wander on across the fields
To return another day.
---
From the sleeve of A Visit to Trumpton record - by Gordon Murray.

Trumpton is a market town set in the heart of rural England, within a short bus-ride of Camberwick Green.

The Market Square is like many other market squares, with its handsome Gothic Town Hall, the statue of the middle-aged Queen Victoria, and an assorted collection of shops and houses; but one feature is unique - the Trumpton Clock.

Every morning, the people of Trumpton take in their milk, open their shops and set out their wares. They do this with one eye on the town hall clock, and one ear too, for they know that dead on the hour a slight rumble from the recesses of the tower will announce that free entertainment is about to begin.

With a loud clonk the two doors on either side of the clock face slide open. To the regular rhythm of a gay mechanical tune, the gilt figures of Sir Rufus and Lady de Trompe emerge and solemnly strike the hour on a bell.

Not until the automatons have returned to the tower and the doors have shut do the townspeople resume their activities. The Mayor, in his parlour, discusses municipal affairs with Mr Troop, the Town Clerk. Below the Victoria statue, Mrs Cobbit, the flower seller, talks to Miss Lovelace, who keeps the hat shop. Miss Lovelaces three pekes, Mitzi, Daphne and Lulu, are yapping excitedly in anticipation of their walk in Trumpton park.

Mr Munnings, the printer, waves a friendly greeting to his next-door neighbour, Mr Clamp, the greengrocer. Outside his shop, Mr Platt, the clockmaker, is taking down the shutters and seeing that the goods in his windows are nicely arranged.

A toot on the horn announces the arrival of Chippy Minton, the carpenter, and his son, Nibs. They park their truck behind the ancient mayoral car and greet Philby, the smartly-liveried driver, who is busy polishing the brass headlamps.

With a flurry of scarlet robes, the Mayor emerges from the town hall. Quick greetings all round, a buttonhole from Mrs Cobbit, and with a roar he is driven off to visit the Trumpton Fire Station.

Captain Flack is ready. As the Mayor arrives, the fire-bell shatters the peace of the countryside. The great doors swing open and the six stalwart firemen slide down the pole.

Pugh! Pugh! Barney McGrew! Cuthbert! Dibble! Grubb!

No one is missing. The Mayor inspects them and crosses to the Fire Engine - the most modern, sleekly-lined, gadget-filled vehicle it is possible to buy. It is Trumpton's pride and joy.

The fact that there hasn't been a fire for 30 years is, of course, rather a pity, but there are many things one can do with a modern, sleekly-lined, gadget-filled fire engine, as you will discover when you hear the two stories on this record, and since the fire brigade also do double-duty as the Town Band, time never drags in Trumpton.

Gordon Murray.

From the LP cover of "A Visit To Trumpton" (Music For Pleasure MFP 1189 (p) 1967)