Characters & songs:
Camberwick Green
Trumpton
Chigley
Interactive bits:
Trumptonshire Quiz
Picture download.
Feedback - your emails
The production team:
Brian Cant
Gordon Murray
Freddie Phillips
Bura & Hardwick
Alison Prince
The Brownfoots
Features:
Episode guide
Where are the puppets?
In the beginning...
The music of Trumptonshire
Trumptonshire analysed.
In search of the real
Trumptonshire villages
Rubovia & Gublins
Media:
TV Web sites
Modern music references
Videos
TV trivia books
Trumptonshire on CD!
More stuff:
Collector's corner
Book catalogue
Link to the T-Web
Credits copyright & email
Linking to the Trumptonshire Web
If you have your own web page, and would like to provide a link to the Trumptonshire Web, then please feel free to do so.

The Trumptonshire Web has its own URL or web address: www.T-web.co.uk

If you would like a graphic to highlight the link then you are welcome to download one of the following GIFs. If you are using a recent version of Netscape, clicking on it with your right mouse button should give you the option of saving it for your own link.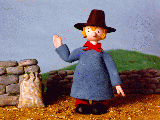 wind_sm.gif

trumpsh4.gif