Picture Download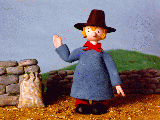 Windows Miller
Sadly the original Windy Miller is no longer with us (see the interview with Gordon Murray). This is a clone - Windows Miller. He's a man for the new millenium who knows that a mouse isn't just "spry and nimble when he grinds the corn" - it's also a pointing device used with a computer...

If you wish to use this picture (or any part of it)
for free, in a commercial publication,
please credit the source as
"Richard Evans www.T-web.co.uk".
Several people had asked for photographs to download, so I constructed "Windows Miller" and photographed him myself during the Summer of 1996.
The picture has been used several times in the national press and on the inside cover of a BBC CD of children's classic TV themes.
For those interested, he is made from a ping-pong ball for his head, modelling clay (setting type) for his feet, hands and head features, built onto a wire skeleton. The smock is just thin foam and his hat is made from cardboard from a cereal packet. He should be the same size as the original Windy. There is one minor difference though - can you spot it ?
To download the picture, click on the size you require:
640 x 480 size 30k JPEG
1024 x 768 size 45k JPEG