Characters & songs:
Camberwick Green
Trumpton
Chigley
Interactive bits:
Trumptonshire Quiz
Picture download.
Feedback - your emails
The production team:
Brian Cant
Gordon Murray
Freddie Phillips
Bura & Hardwick
Alison Prince
The Brownfoots
Features:
Episode guide
Where are the puppets?
In the beginning...
The music of Trumptonshire
Trumptonshire analysed.
In search of the real
Trumptonshire villages
Rubovia & Gublins
Media:
TV Web sites
Modern music references
Videos
TV trivia books
Trumptonshire on CD!
More stuff:
Collector's corner
Book catalogue
Link to the T-Web
Credits copyright & email
Trumptonshire Themes on CD
The theme tunes from Camberwick Green, Trumpton and Chigley are all available on the 75th anniversary BBC CD of children's themes "Hello Children Everywhere".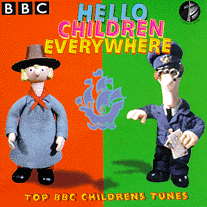 Apart from the three main Trumptonshire themes, the CD also contains the instrumental versions of Windy Miller's song and Crockett's polka. The Chigley theme is the full version (or extended mix as it would be called these days) including the rarely heard vocals - "Hurry up, hurry up gather around...". The CD also includes the theme from Rubovia (which was written by Freddie Phillips, who composed all of the Trumptonshire music).
There are also another 18 tracks on the CD, such as "Fireman Sam", "Postman Pat", "Blue Peter", "Rhubarb and Custard" and "The Magic Roundabout". The CD contains a curious mix, covering children's programmes over the decades, although most are from the 1970s and 1980s.
If you do buy the CD, look out for the picture of the Trumptonshire Web's Windows Miller on the inside of the sleeve.
If you're interested, why not check out the Trumptonshire music section.

If you are looking for all of the songs from Trumptonshire, John Phillips (son of Freddie Phillips) is selling a triple-CD set.