Freddie Phillips

Sadly, Freddie Phillips passed away, on 4th October 2003, at his home in Ewell Surrey. This article was originally written in 1999, and revised in 2003. His music lives on...

While Brian Cant was the voice of Trumptonshire, Freddie Phillips was the man behind the music of Trumptonshire. He wrote and performed the theme tunes for all three of the Trumptonshire programmes, provided the music for all the characters' songs, co-wrote some of the lyrics and created all of the sound effects - such as the memorable sound of Windy's mill turning. For many people it was the music and songs that made the series so memorable, so who was Freddie Phillips?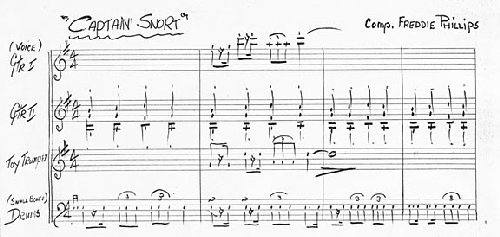 The original manuscript from the start of "Captain Snort",
as penned by Freddie Phillips
Before Trumptonshire, Freddie Phillips was involved in a large number of radio and television programmes, including many early children's programmes, the acclaimed Lotte Reiniger Shadow Films, and Gordon Murray's earlier series Rubovia . In addition to his radio and TV work he also had a more 'formal' career, performing and recording with most of the leading orchestras: the BBC Symphony Orchestra, the Glyndebourne Festival Opera, the English National Opera and the Royal Ballet. His engagements took him to Russia, Poland, Czechoslavakia, and most of Europe. (If it hadn't been for these engagements as a performer with these prestigious orchestras he would not have been able, on what he was paid, to have even considered the Trumptonshire project).
More than thirty years after it was written, the Trumptonshire music still generates considerable media interest (such as the BBC "smallpeople" promotional film), and even late in his life he still kept his hand in with the classical guitar.
When I spoke to him in 1999, he seemed well aware of how popular the Trumptonshire music had been, and how people still fondly remember it.

What do you remember about the recording sessions ?
I remember long days and some nights putting the M&E tracks together, to meet a deadline, followed by longer days feeding them to Brian Cant (who didn't read music) in the recording cubicle through ear-phones.
Gordon Murray called his contributors his "Cottage Industries" and that is what we were. All animation was done in a "small back room" as, I believe, were the set designs. An upstairs room in my house was divided by sound-proof partitions; two thirds for the machines, one third for the recording cubicle. I supplied all the recording equipment including Wright + Weir, Brenell, Revox A77, Revox A700 master mixer, speakers, Senheiser mikes, reverb/echo boxes etc specially for work on Trumptonshire.
The firemen's roll-call came about when Gordon Murray sent me a line which read:- "Pugh, Barney McGrew, Cuthbert, Dibble, Grubb" - five men only. As you will see it has no musical "foot" and requires another beat, for instance "Charlie Pugh, Barney McGrew etc would have sufficed, fitting a 6/8 rhythm. On my instigation Murray added the missing beat - another Pugh - and a catchphrase was born.
How did you go about recording all the various sound effects ?
A Uher (portable tape recorder) travelled with me whenever outside effects were required such as traffic, birdsong etc. For example, Lord Belborough's little train was recorded at Sheffield Park Station (on the Bluebell Line) in Sussex, when I was engaged at Glyndebourne.
In the episode "Cuthbert's Day Off", which features the song "The Round Pond", he visits the Trumpton Park pond and falls in whilst feeding the ducks. The loud splash effect was achieved by dropping a large object into the bath, thereby drenching the floor, walls and ceiling. The ducks were recorded at the Spring, Ewell Village.
I believe you were an early exponent of multitrack recording. How many tracks did you typically use for each of the Trumptonshire songs ?
Three tracks were usually sufficient for the music, which was then mixed with voice and/or effects.
I think there were a total of around fifty songs written for the Trumptonshire characters. Did you have a particular favourite composition, or one that you were particularly proud of ?
I have no preference with regard to my compositions, but I think some compositions were more effective than others, such as "The Clockmaker", "The Greengrocer", "The Little Train", "The Windmill" and "The Round Pond".
When you were writing and performing the music, did you see the Trumptonshire programmes as a classic series in the making, or just another children's programme ?
Composing the songs, and some lyrics, playing all parts on multi-track - sometimes with the assistance of a percussionist paid for by me - supplying all equipment, and for each episode a final M&E (Music and Effects) and dialogue master tape for transfer to film, was very much a gamble... but, having completed the scores for thirteen silhouette films for Lotte Reiniger, I thought perhaps that Murray's venture would succeed.
I noticed that you get a credit on the track by the group Urban Hype called "A Trip to Trumpton" which includes a bit of "Firemen Bold"
Yes, it was all done through the proper channels, and I received a small royalty, but it didn't make me a fortune!


This article came about after writing and speaking to Freddie Phillips in January 1999. Many thanks to Freddie for providing a copy of the original manuscript, and to his son John for his support with the web site.
All of the songs from the three Trumptonshire series are now available on CD from John Phillips