Andrew Brownfoot - Set Designer
Husband and wife team Andrew and Margaret Brownfoot designed and constructed almost everything seen in the Trumptonshire programmes. But they also played an important part in the early development of children's television, working on programmes such as 'Toy Town' and 'Rubovia'.
These days they are living on the island of Sicily, Italy. In this, his first ever 'Trumptonshire interview', Andrew talks about the process of designing and making the Trumptonshire sets, and the early days of children's television, when TV puppeteers always performed live on-air.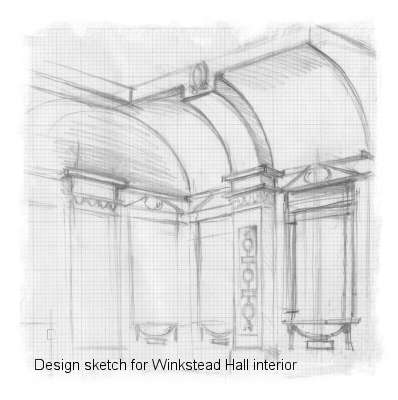 This is one of Andrew Brownfoot's sketches for the design of part of the interior of Winkstead Hall, in Chigley. It eventually became Lord Belborough's study and is often seen in Chigley as the room Brackett enters, after slowly ambling down the corridor, having just taken a message on the telephone. The ornate bookcases and decorative pier can be clearly seen in the Chigley programmes.
As you can see, these early sketches were drawn in perspective, but once the design was agreed, full scale drawings would then be produced, as shown below. This one was originally full scale on an A1-size sheet of graph paper.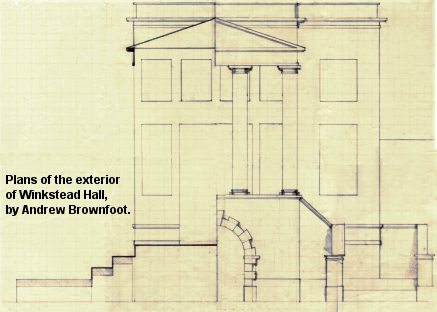 Andrew Brownfoot's exterior design plans for Winkstead Hall.
Designing the Trumptonshire Sets.
How did you go about developing the designs for the sets?
Gordon would give us the script and we'd read through it and work out what was required. Then I'd produce some life-size or scale drawings and we would go through them with him. Gordon would provide some of the props - such as Dr Mopp's car, which had to be made to fit the puppet precisely, so he often made that sort of thing himself.
Margaret designed and built all the buildings and the green itself for Camberwick Green in 1965, working on it full time and taking about 6 months, I think. For each of the three Trumptonshire series there was never anyone else - it was entirely our own work.
Where did you get your inspiration for the buildings - such as the Trumpton Town Hall ?
I was influenced by the Victorian architecture in the area around Harrow where we lived, and I thought it would be nice to have a statue of Queen Victoria in the market square.
Do you have a particular favourite building ?
Not really. The biscuit factory was fun - combining various elements from the modern factories which were being built at the time. And for Lord Belborough's stately home, Winkstead Hall, I was inspired by Kedlestone Hall near Derby
[Kedlestone Hall is a National Trust property designed principally by Robert Adam in 1759-1765. Check out the photo of Kedlestone Hall on the National Trust website to see the remarkable similarity to Winkstead Hall].
What sort of materials did you use to build the sets?
All the scenery and many of the props for Trumptonshire were made of mounting board, wire and gum strip, then shellacked and painted with gouache. Plasticine and a liberal sprinkling of commercially produced plastic and wooden mouldings, intended for wardrobes and the like, were used for the Trumpton Town Hall and Winkstead Hall, which worked well at a different scale to what they were intended for.
When you were asked to design Windy's mill why did you go for a tower mill rather than a wooden post-mill ?
A post-mill would have been much harder to make, so we decided on a tower mill. In fact we had originally intended that the door into Windy's mill would be around the back, but the animators (Bura & Hardwick) assembled the parts with the door at the front. This allowed Windy to walk between the blades without ever being hit, which, as it turned out, is something that everybody seems to remember about the series.
A few of the buildings needed interiors shots (such as Mickey's bakery and the Post Office). Did you use removable walls for these?
No. The interior shots were different sets altogether, but we made sure that they closely matched the exterior shots.
What sort of workshop did you have ?
Our 'workshop' was the sitting room of our house on Harrow Hill which we shared with Margaret's parent's. We had divided the house so that we had our flat upstairs and Maragret's parents had theirs. So when we were in the middle of building the sets and our place was a bit untidy we could always retreat for dinner! The finished sets didn't take up much space - they certainly didn't fill the room.
Was there anything you weren't happy about ?
No, generally I was very happy with what we did. But the 'tracking shot' of the Trumpton fire brigade racing through the streets was rather hurriedly constructed at Bura and Hardwick's studio. It was such a quick sequence that some details were left out. Years later, I received a letter from a harassed mother to say , please could we put some curtains at the windows of the houses because her little boy kept asking why no one had curtains in Trumpton ! Sadly, we were never able to re-film the series for this child - did he grow up with a terrible phobia about un-curtained windows. I hope not !
Did you meet any of the other people in the production team ?
We met Bob and John and some of the assistant animators when we dropped the sets off at their north London studios, and we met Freddie Phillips once, later on, but we have only kept in touch with Gordon Murray.
When you were asked to do Camberwick Green did you know that there would be two further series ?
No, it was just a one-off series, and a real gamble for Gordon Murray.
At the time, did you think the programmes would go on to be very successful ?
My ambition was to work in the theatre on classic drama productions and "Stage 60" offered great opportunities for me. But I read through the scripts and thought alright this is different, but I'll do it, as I like working with Gordon.
I noticed that Captain Flack's control panel in his office has a map of Florence in Italy on it. Was that an early indication of your desire to move to Italy ?
No it was nothing to do with it ! We just happened to have that map available at the time.
So looking back, do you see what you did as any sort of high point in your career, or was it just another job ?
Just another job really. I enjoyed doing it at the time and tried to do as good a job as possible, but it wasn't particularly special. But it was the job that brought me fame - if not fortune.

The Prehistory of Trumptonshire,
by Andrew Brownfoot
I was 16 when I first met Gordon Murray, at the BBC Lime Grove Studios in Shepherds Bush. For several years previously I had been using paper sculpture methods to create what were considered remarkably elegant puppets (marionettes). Molly Gibson who worked as a puppeteer arranged an audition for me, and Gordon was among the BBC staff to see my work. The audition went well I thought, Gordon in particular was impressed but, apart from a small slot on David Nixon's 'It's Magic' where my puppets gave their first performance, I heard nothing for over a year. Then completely out of the blue, the phone rang, it was Gordon - could I design scenery ? Yes I can - Good, when can you come to see me ? Whenever you want - Have you any drawings of scenery ? Yes I have (actually only three scrappy sketches for 'The Witch of Edmonton') - We are working on a series of 'Toy Town' for Children's Television and if you're interested and are prepared to do one or two rough sketches for the town square come and see me next week and bring some of your drawings with you. That was the start of a very happy period of work and a lasting friendship.
After the 'Toy Town' series Margaret joined me in creating the scenery and costumes for Gordon's lovely series of 'Rubovia Legends' (there were two versions of this, first with small marionettes and tiny scenery for which I provided some new settings and a new costume for the queen, then Gordon remade the series using his own larger puppets for which I designed and made all the costumes and scenery with Margaret's assistance). Both Margaret and I were still studying Theatre Design at The Central School of Arts and Craft in Holborn, but with encouragement from Jeanetta Cochranne the Head of Theatre Design we spent most of our time working for Gordon and the BBC.
The 'Tin Shed' at Lime Grove studios was the home of 'The BBC Television Puppet Theatre' conveniently placed between the TV studios and the canteen, and it was here that all the preparation work for the production was carried out. Gordon made all the puppets, I designed and made the costumes and scenery assisted by Margaret, who became increasingly involved as time went on. Bob Bura and John Hardwick (the animators for all of the Trumptonshire programmes) were puppeteers, along with Molly Gibson and Audrey Atterbury, and Derek Nimmo and Patricia Hayes provided some of the voices for the Rubovia characters.
Down the centre of the Tin Shed a long puppeteer's bridge made of 'Dexion' spanned three puppet stages, so the scenery could be set up for an entire play. When the transmission day arrived, the entire set up would be taken down, moved to a TV studio and re-erected ready for camera rehearsals, and finally, at 5pm the programme would be transmitted. Tele-recording had not been developed at that time and so everything went out live, including a few embarrassing moments when things went wrong. Puppets would get entangled with each other or with the scenery, which during 'Beauty and the Beast' I remember, fell over and then was picked up by a giant hairy arm of the floor manager in full view of the transmitting camera!
Margaret and I were married in 1958 and a transmission of "Rubovia" went out the day after, so at six O'clock on the morning of the first day of our married life we had to be in Studio One at Lime Grove to supervise the set up ready for camera rehearsals at nine ! At 6pm all our scenery was being dismantled, or rather torn down to make way for another transmission and everyone involved in the production rushed to the BBC club to wind down and recover from the sense of anticlimax. After eight weeks of preparation, the show had been performed only once, and now it was gone, never to be seen again.
Just a few months later I was called up for National (Military) Service and was posted to Catterick in North Yorkshire for two years. Margaret and I designed two more productions for Gordon while I was at Catterick and Margaret worked on a third.
While I was in the army, designing for the officer's amateur theatre club, the BBC moved into its splendid new Television Centre at Shepherd's Bush and a little time later the Television Puppet Theatre moved into a new purpose built studio there. In theory the programmes could be made without the need for moving into another studio.
Tele-recording and colour had now arrived but in fact most of our productions were now filmed before transmission. Somehow things were not so happy in Television Centre and I think Gordon became increasingly frustrated as staff producer. He tried several new ideas and began developing his methods for Stop Frame filming. He created "The Minute Men" tiny characters living in our full scale world, but the BBC were not impressed. Other ideas were tried with similar depressing reception by 'Aunty'. The Television Puppet Theatre was disbanded and its new purpose built studio was never used, so when I came back from National Service, Margaret and I were out of work and Gordon had left the BBC.
Sitting by the Serpentine one warm day in 1961, each with a glass of gin and tonic and a sandwich, Gordon and I discussed our mutual lack of funds and what should be done to improve the situation. "What we have to do," Gordon said, "is make a series of programmes for very young children. You only have to think of Andy Pandy, The Flower Pot Men and the Wooden Tops; repeated year after year - there's always a new audience you see - their creators get royalties every time they are shown and on the sales of toys and books etc". I agreed but thought no more of it until in 1965 Gordon rang me to say he had written scripts, bought a second film camera and would Margaret and I be prepared to make sets and props for a trial film ? We agreed, and a few days later went to see Gordon in Albert Mansions (just behind the Albert Hall). The puppet characters were already completed and his large elegant study was full of lighting equipment, camera and staging.
Gordon had taken a huge financial risk in setting all this up and asked if we would prefer to be paid in a lump sum for each of the films or (as he hoped) be paid considerably less to start with, and if the films were successful we would receive royalties for our design work. We had no money at the time and were being supported by Margaret's parents (Margaret was working for them in their shop selling radios, televisions and records etc) so we opted for the lump sum, and I felt Gordon was offering as much as he could at the time. So we have never made anything from the sales of toys or books etc, using our designs. But we made the choice - we should have had more faith in Gordon's idea!
It was Margaret who did most of the designs and all the making, of the first Camberwick Green programmes, because after four years out of work, I had finally got a job with Stage 60 at the Theatre Royal, Stratford East. For the whole of 1965 I was fully occupied as resident designer. Sadly, after several productions loudly praised by the London critics, Stage 60 crumbled under its crushing debts and I was out of work, yet again.
In 1967 I began my teaching career (after vowing I would never want to teach). At first it was just one day a week at Harrow School of Technology and Art and two days a week at the School of Theatre Design, Birmingham Polytechnic (later to become the University of Central England). So when the later series of Trumpton and Chigley came on the scene Margaret and I were involved in productions at Watford Rep., 'As Dorothy Parker Once Said' and 'The Boy Friend' revival in the West End as well as my teaching. However I worked on the designs for Chigley and Trumpton, and Margaret and I both made the scenery and some props which we delivered to Bob and John in their North London house.
Incidentally I think Gordon had Bob a John working with him as puppeteers before he joined the BBC, certainly he had travelled with a puppet group and I believe they had worked with him. I remember seeing some of these early puppets from the touring show hanging in store at Lime Grove.
When tele-recording and colour TV was being developed, one of the BBC Puppet Theatre Productions 'The Emperor's Nightingale' was selected by the Head of Design as an example of the glories of colour. Somewhere in the BBC archives there may still be this, the only full colour programme of the BBC Puppet Theatre, complete with specially composed orchestral music performed live in the TV studio, and with scenery and costumes designed and made by me with Margaret's assistance. I never worked in the series of standard tones of black, greys and white, that for a while was employed by staff designers who wished to control completely the somewhat unpredictable effects of blue and red on the black and white TV cameras, then in use. The depressive effect on the performers and production teams soon meant that the designers reverted to full colour, even though the programmes were transmitted in black and white.
Gordon I remember gave me a little viewing glass that was supposed to show the tonal relationships of colour in monochrome, these were used by TV designers but were not much help. In fact they had been developed for normal photography and TV cameras reacted differently to blues and reds - I just did what I wanted and ignored this technical device !

---
This article was written in September 2000. Many thanks to Andrew for providing the background to the Trumptonshire programmes and the original illustrations.