The main instrument heard on the Trumptonshire songs is the acoustic guitar, but Freddie Phillips used a variety of percussion instruments to create the many sounds required for the programmes.
The items shown below are some of the actual instruments used in the sound tracks of the Trumptonshire programmes back in the late 1960s. They were given to me by Freddie's son John.

This German-made toy trumpet was used to create the sound of the Pippin Fort bugle. In spite of its brass apearance it is made of plastic, with a shiny coating. Each of the buttons on the top gives a different note . It was used to call the soldier boys on to parade, and also as backing in Captain Snort's song.



These wooden blocks were used for the tick-tock of the Trumpton clock. They are part of a set of four, all looking very similar, but each one has its own distinctive note. They are roughly the size of a grapefruit.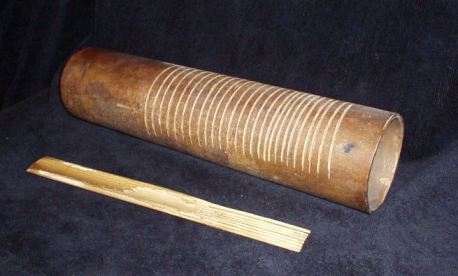 This instrument consists of a cylinder with a series of ridges cut across it, and a light-weight stick which is rubbed along the side of the cylinder. They are traditionally made of bamboo.
I believe this is called a Kret - can anybody confirm this?
The sound of Windy's mill turning is made of five different parts, and in the book "Songs from Camberwick Green" Freddie describes it as "Rasp Click Ker-bonk Whirr". Listen out for the sound of the kret above.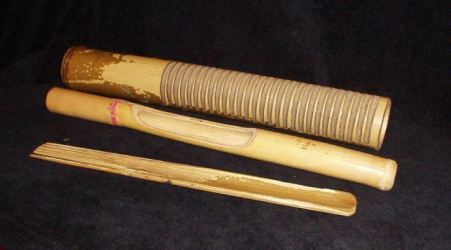 Another kret. This one was used for the sound of Mr Munnings printing press.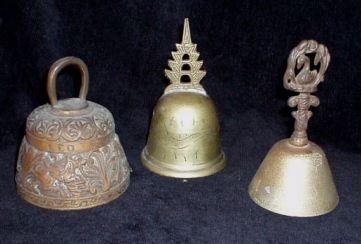 Freddie had a collection of hand bells. One of these may well have been used as the bell on the Trumpton fire engine. However, it is difficult to work out which one he used as Freddie was an expert in tape recording effects. By simply speeding up or slowing down the audio tape and adding some echo or reverb the sound can be greatly altered.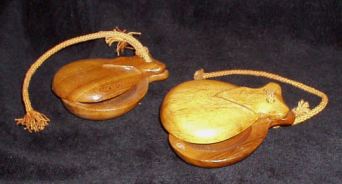 These castanets were used in the music to accompany
Mickey Murphy's song. Their sound immitates
an Irish Clog Dance.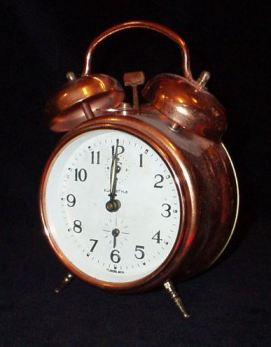 Did this alarm clock provide the alarm bell
at the Trumpton Fire Station ?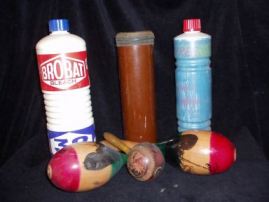 Here we have a variety of shakers, including home-made plastic bottles, full of dried beans, and proper maracas.